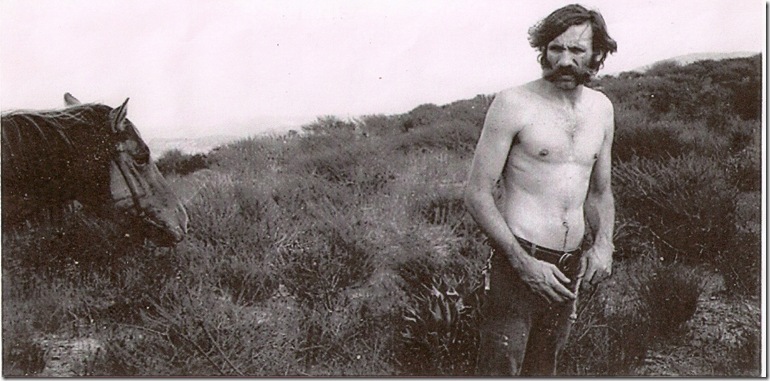 1968  Summer Job – Cattle Ranch in the Santa Barbara Mountains 
"So, why don't you publish your poetry?",  the horse asked across forty plus years of time.  "You've been covering every scrap of paper, with your weird silly prose and distorted rhyme." 
"I would really like to write a novel", Sailor said.  "Many stories are swirling in my mind.  The problem is with, the number of words, as if brevity were a crime."  Sailor then continued,  "As a poet", he said. "I've become a minimalist, discarding extemporaneous words with no thought. You see they clutter the rhythm with extra syllables……" 
"……and you said you couldn't be taught." 
"This horse," Sailor thought, "is smarter than he looks."  So he decided to stay for awhile. 
"You Conservatives are easy to spot.", the horse said. "Turning everything into a trial." 
Sailor thought about this, as his mind slowly turned to a smile. "You Liberals want all of us, except you of course, to give-up the extra mile."  Sailor held back for a moment, thinking how he would say, concerning the pet-peeve that was bothering him today. 
 "Most of the books", Sailor said.  "That are very popular today.  You know the ones on the best sellers roll, will all just probably decay."  Sailor was getting excited, expressing the punishment he had felt.  "They tell me my poetry is wonderful, but the novels …..well …..they smelt." 
"Guess I didn't properly stimulate their senses", Sailor thought.  "……..no spectacular vivid picture, their attention was not caught.  I want to grip the notions up-in their mind.  They say my poetry is colorful, …but writing is wasting my time." 
 "Have you found when you're writing",  the horse said, craftily switching the theme,  "Do you ever find your repeating yourself, …that perhaps your loosing the dream?" 
Sailor sat and thought for awhile, not wanting to tell the horse a lie.  "I strip out all of the extra words, redundancy would just make it die."  Then he exclaimed,  "No!  I don't repeat myself, for a minimalist that would be simply wrong.  Like taking the voice of Madonna, …then asking her to sing us a song." 
"OK, so your brief."  The horse mockingly said.  "Guess that lets you write it real fast, but the words quickly read, are soon to be dead, proving poetry will never last."  With a smug sort of snort, the horse showed his rapport, causing Sailor to slowly turn 'round.  "Tell me about the book you are reading."  The horse asked with ease.  "It's right over there, ………where you dropped it, ……There! ……under the trees." 
Sailor picked up his book, put it back in his pack, then he started to drift far away.  He thought of a crime, now committed in time, knowing advertisers never give sway.  Commercials dominate the TV shows, broadcaster must keep you from drifting away.  "Let's tell 'em what we're goin'na to tell 'em, hook 'um with anticipation, this will make them stay." 
"I don't watch TV", the horse said.  "To little content, it's not worth my valuable time."  He said this because, Sailor procrastinates, wasting most of his day, while managing to work in pantomime. 
Then came the slamming of a door, the dream, ……….far to quickly ended.  The horse reached out, 'cross space and time, solutions have been tended. 
 The story need not be long for the Poet to sing you his song, for he knows he can tell you stories this way.  With  rhythm and rhyme and sweet prose, he'll keep you up on your toes, while all the time hopping you'll forever stay. 
©  Sailor  All Rights Reserved – Dec. 2010